Links

http://www.moma.org/

www.moma.org/filmvideo/hitchcock/


Reviews

Alfred Hitchcock: Music from His Films

Bernard Herrmann: The Film Scores (Salonen)

Citizen Kane: The Classic Film Scores of Bernard Herrmann (Gerhardt)

Citizen Kane: The Essential Bernard Herrmann Film Music Collection (Silva)

The Inquirer (Preamble)

Journey to the Center of the Earth (OST)

Great Hitchcock Movie Thrillers / Great Film Music

The Mysterious Film World of Bernard Herrmann

Orson Welles at the Movies

Psycho (McNeely) #1

Psycho (McNeely) #2

The 7th Voyage of Sinbad (Debney)

Taxi Driver (OST)

Torn Curtain (Bernstein)

Torn Curtain (McNeely)

The Trouble with Harry (McNeely)

Vertigo (McNeely)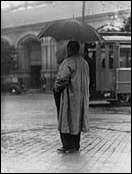 Bernard Herrmann is featured at a small exhibition in the Museum of Modern Art, New York, until August 17, 1999. Celebrating the 100th birthday of Alfred Hitchcock, it pays tribute to the many facets of the director's persona: producer, showman, artist, and, just as important, man of copious wit and attention to detail. It features scripts, correspondence, posters, and set renderings that make up an unusual if spotty retrospective. Musically, Herrmann provides the lion's share of interest. His desperate letter to get Marnie's music begun ("can you please send me a script?") and the fateful letter terminating his agreement after the Torn Curtain débâcle are there, some in perfect facsimile, others original. It is quite touching to see Herrmann's letters, written in black and underlined in red, with copious misspellings, signed "Love, Benny." How I'd love to have seen scores or cue sheets: but Benny's work had to fit into Hitch's retrospective.

MoMa has compiled and is distributing a CD of Hitchcock film music from various sources, with five of the 7 Herrmann scores represented. Although most of it has been released before, they seem to be more in context with their lesser brethren. For, from a strictly critical point of view, it is evident that Herrmann's work stands head and shoulders over the others, even when the Waxman, Tiomkin, and Rosza scores are so very good. Most of Herrmann's scores have the advantage, of course, of being re-recorded recently, and the tracks from Marnie, Vertigo, and Psycho are the well-miked versions of Varèse Sarabande and Silva. But we are treated to "Conversation Piece" from the soundtrack of North by Northwest and "Manny In His Cell" from that of The Wrong Man. Extracted from their film elements, and not often heard elsewhere, it makes a lovely addition, if brief, to anyone's Herrmann collection.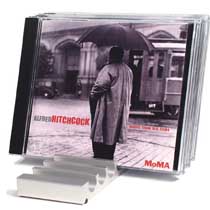 The CD's last track is Benny himself speaking, expounding on the importance of music in film for almost four minutes. This has been heard before in an even longer version on another CD, taken from a 1972 interview. Spoken in his elliptical, almost enigmatic style, it is a curiosity at best, and one is hard pressed to think why this commentary is better than the rapturously eloquent music that is of core importance to this disc, and to Hitchcock's best work. He simply did not express himself well with words, although he was well-read. His genius is readily apparent on this disc.
Since most of the music on the Hitchcock CD deals with suspense or romantic cues, it is interesting to compare how similar cues are treated by other composers. For instance, the charming cue to the opening credits of Hitchcock's first sound film, Blackmail (1929), uses fairly typical "hurry music" of repeated sixteenth notes (in "turn" fashion-say, repeated d-c-b-c on the piano). But when the rooftop chase from "Vertigo" suddenly comes on, this turn-figure, which Herrmann coincidentally uses as well, becomes the terrifying, monstrous fearful descent into a cataclysm that he so calculatedly made it. Juxtaposition with the earlier work of another composer makes it all the more appreciated.
Even the Franz Waxman theme from Rebecca, with its chromatic sweep (signature from his "Frankenstein" days), and Tiomkin's terrific opening to Strangers on a Train--which seems to prefigure the comic "Portrait of Hitch" at times--are excellent examples of intelligent film scoring and are well collected here.

You can see more about the exhibit at


www.moma.org/filmvideo/hitchcock/overview.html.
The CD can be ordered directly from MoMA's online store at


store.moma.org (do a search for "hitchcock").
CD tracks:

North by Northwest (1959) Bernard Herrmann

1. The Wild Ride
2. Conversation Piece

Rebecca (1940) Franz Waxman

3. Prelude

Young and Innocent (1937) Louis Levy

4. No One Can Like the Drummer Man
5. Erica at the Mill

Vertigo (1958) Bernard Herrmann

6. The Rooftop Chase
7. Scene d'armour

Strangers On The Train (1951) Dimitri Tiomkin

8. Prologue/Duet for Four Feet
9. Guy Goes to the Anthony Mansion

Suspicion (1941) Franz Waxman

10. Main Title

Psycho (1960) Bernard Herrmann

11. The Murder
12. Marion And Sam
13. Patrol Car

Blackmail (1929) Campbell & Connely

14. Main Titles/Prologue

Spellbound (1945) Miklos Rosza

15. Concerto Prelude

The 39 Steps (1935) Louis Levy

16. The Chase On the Moor
17. Love Theme

The Wrong Man (1957) Bernard Herrmann

18. Manny in his Cell

Interview

19. Bernard Herrmann