Franco Leoni
Born: Milan, October 24, 1864
Died: Dover, England, November 11, 1938 [some records indicate his death as 8 February, 1949]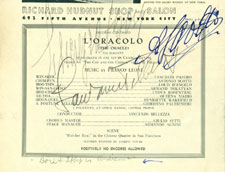 Program from L'Oracolo, Metropolitan Opera, with Antonio Scotti and Queena Mario
Composer of Italian birth. Studied music at the Milan Conservatory, studying under Ponchielli and Dominiceti. He wrote some large-scale sacred choral works, but emigrated to England after the success of his first opera, Raggio di Luna, in 1890. In England he produced some decidedly un-Italian works, such as in 1897, Rip van Winkle—from Washington Irving, then Ib and Little Christina— from Hans Christian Anderson (1901). Franco Leoni's connection with the D'Oyly Carte Opera Company was as composer and first night conductor of Ib and Little Cristina, a "picture in three panels" with words by Basil Hood. The musical play opened at the Savoy Theatre on November 14, 1901, and closed November 29 after just sixteen performances. Despite its short run, it was later revived by George Edwardes at Daly's and Lyric Theatres in 1904.
Ib and Little Cristina was one of three Leoni musical stage works produced in London between 1897 and 1905. The others were Rip Van Winkle (Her Majesty's, 1897) and L'Oracolo (Covent Garden, 1905).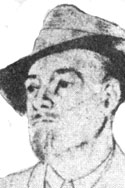 Franco Leoni
L'Oracolo is accepted as his most popular work. It was produced at Covent Garden in 1905 with Antonio Scotti portraying the opium dealer, Cim-Fen. Scotti made the role his own, and brought it to America, where it enjoyed a long run at the Metropolitan Opera starting in 1915. Many reviews cite his performance as being downright evil, certainly rivaling his Scarpia. He chose to perform in it for his 1933 farewell from the Met—but L'Oracolo has not often been heard since.
Recordings of Ayo's First Act soprano solo was recorded in Italian by Dorothy Warenskjold, and in English by Frances Alda, both before 1920. Tito Gobbi made a recording of the work in 1977.
After Leoni returned to Italy in 1917, he composed several other operas about which little is known.
Operas
Raggio di Luna (5 June 1890, Milan) Libreto by Camillo Zanoni. Opera in 2 acts?
Rip Van Winkle (4 Sept 1897, Covent Garden Theatre, London). Opera in 3 acts
Ib and Little Christina (after H. C. Andersen), London, Savoy, 14 Nov 1901. A picture in 3 panels. Libretto by Basil Hood.
L'Oracolo (28.6.1905 Covent Garden Theatre, London). Tragic Opera in 1 Act,
words by Camillo Zanoni, after the play, The Cat and the Cherub, by Chester Bailey Fernald.
Tzigana (Ettore Moschino), Genoa, 3 Feb 1910
Francesca da Rimini Opera in (M. Crawford), Paris, (Favart), 1914
Le baruffe chiozzotte (after C. Goldoni), Milan, 2 Jan 1920
La terra del sogno (Linati), Milan, 10 Jan 1920
Falene (C. Linati), Milan, 1920
Massemarello, Details unknown — unperformed)
Other Works
The Gate of Life. Dramatic Cantata. Verse written by Schapcott Wensley. (1897)
Golgotha. Words from the text of the New Testament, narrated in music (for soli, chorus and orchestra). (Chappell, 1910).
Song: "The Birth of Morn", lyrics by Paul Laurence Dunbar.
---