Luigi Mancinelli
Born: Orvieto (Papal States), 3 Feb. 1848
Died: Rome (Italy), 2 Feb. 1921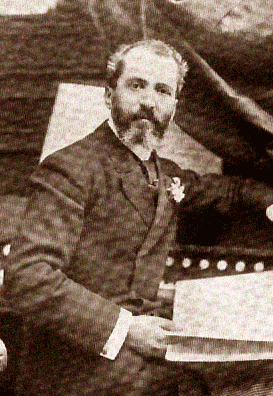 Mancinelli was a cellist as well as a conductor. He conducted at Covent Garden, in Madrid, and in Buenos Aires, where he led the inaugural performance of the Teatro Colón. He made his Metropolitan Opera début in Faust, which re-opened the house on Nov. 27, 1893, after a fire which had closed the house the preceding season. During nine seasons as leading conductor, he led the first Met performances of Werther, Falstaff, Samson et Dalila, Le Cid, The Magic Flute, La Bohème, Don Giovanni, and Ernani, as well as his own opera, Ero e Leandro.
His popularity was rivaled only by that of Toscanini for many years, and had he not arrived late on the disc recording scene, Mancinelli would have certainly been better known today. The only recordings made of him conducting are those made from the flies of the Metropolitan Opera house by Lionel Mapleson in 1901-02.
He apparently wrote Ero e Leandro in forty days, during a tour of the United States.
---
Operas
Isora di Provenza (Romantic Drama in 3 acts, Angelo Zanardini, Ricci and Mantovani; Bologna, 1884)
Ero e Leandro (Lyric Tragedy in 3 acts, Arrigo Boito ("Tobia Gorrio"); Madrid, 1897)
Paolo e Francesca (1 act, Arturo Colautti; Bologna, 1907)
Sogno d'una Notte d'Estate (Lyric Fantasy in 3 acts, Fausto Salvatori; 1919)
Selected Other Works
Messalina (Prelude and Intermezzo for the drama by Pietro Cossa, 1876)
Cleopatra (Symphonic Intermezzi for the drama by Pietro Cossa, 1877)
Tizianello (Five pieces for the comedy by Erik Lombroso, 1880)
Cantata del Lavoro (for soprano, tenor, and orchestra with chorus; verse by Augusto Berta, 1898)
La Vida es Sueño (Adagio and Waltz for the Association of Writers and Artists, 1887)
Missa In Honorem Beata Mariæ Virgine, sub titolo Auxilium Christianorum ad chorum quatuor vocum inæqualium. Mass for mixed chorus and orchestra [and organ reduction], in G. (1899)
Isaia (Cantata, words by Giuseppe Albini, 1887)
Frate Sole (Film score: Symphonic poem for chorus and orchestra from the tale by Mario Corsi, through Tespi-films, Rome; 1918)
Giuliano L'Apostata (Film score: Symphonic poem for chorus and orchestra from the tale by Ugo Falena, through Bernini-films, Rome; 1920)
---
contributed by John Mucci
---
[ OperaGlass Composer Index | Main Page ]
---