Heinrich Marschner
Der Vampyr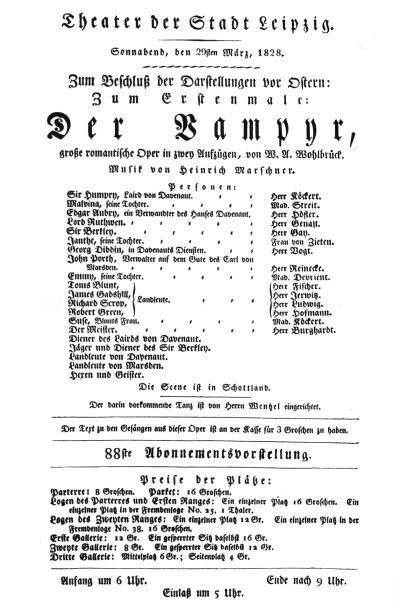 Program from the first production

Heinrich Marschner's 1829 opera, Der Vampyr is one of those phenomena of music, a true precursor in style and content. At first it was a sensation, as all literature was taken with the sweep of Gothic and horrific literature. Based on Dr. John Pollidori's story "The Vampyre," written in tandem with Mary Shelley's Frankenstein, this opera rode the crest of the Gothic wave that lasted well to the end of the century.
Libretti
"Der Vampyr" - The original libretto by Wilhelm August Wohlbrück.
"The Vampire" - an English translation of Der Vampyr by Jutta Romero
"El Vampiro" - a Spanish translation of Der Vampyr by Àngel-Fernando Mayo Antoñanzas

Back to the Operatic Contribution page.
Back to the Home Page.

Click to subscribe to Marschnerites